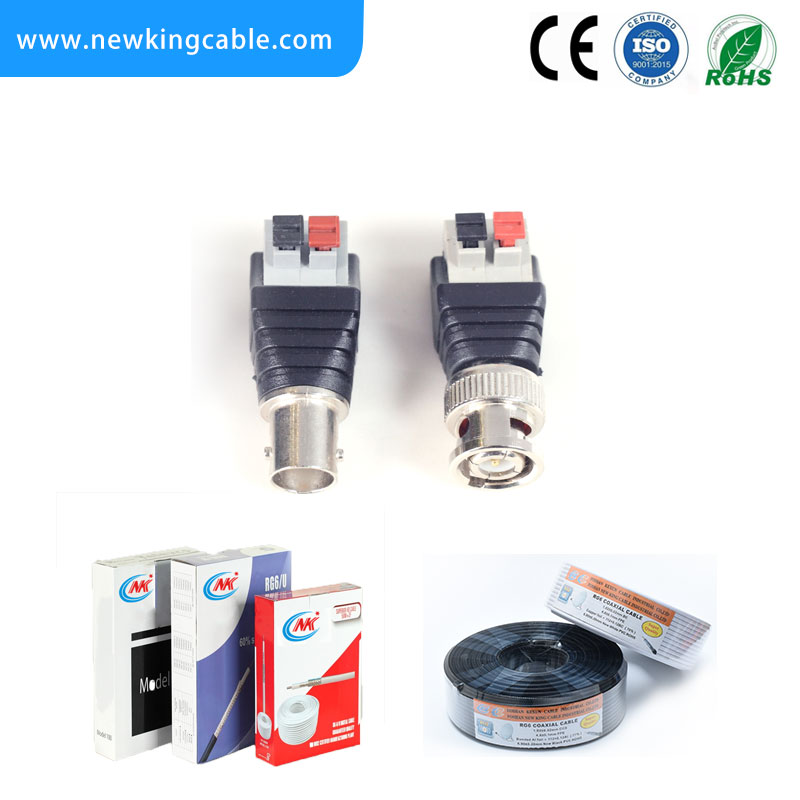 When talking about security cameras, we will think of BNC Connector for RG59 cable.
RG59 is a typical CCTV cable, and BNC connector is one of the most common connectors used for security cameras.
But do you know what does a BNC Connector stand for? How it works with a RG59 coax cable? What's the function of a BNC connector for cameras? How many BNC connector types are there? To help you find the answers, we will show you five facts about a BNC connector in the following passages.



What Is BNC Connector?
To begin with, what does a BNC Connector stand for? A BNC connector is named for its inventors - Bayonet Neil Concelman. The full name originated from two people - Paul Neil and Carl Concelman. The former has invented the N connector and the latter has invented the C connector.
The BNC connector is a typical terminator for coaxial cables. It is usually attached to a coaxial cable's end to connect signals.


BNC Connector Types
Secondly, there are two main types of BNC connector - 50 ohm and 75 ohm. Like other cable connectors, these two versions also split into male and female BNC connectors. Different versions of the BNC connector are compatible. However, if the impedance of a cable is different, the signal might reflect.
Generally, the 50-ohm BNC connector can be used at frequencies up to 4GHz. And it rarely has transmission error when connecting with cables, so it is the most widely-used one. However, 50-ohm BNC connectors are usually used for the old analog video signal, and won't bring you good-quality signal transmission.
The 75-ohm version is specific for use at frequencies up to 2GHz. It is commonly used for high-quality video signal transmission especially CCTV cameras. Compared to the 50-ohm BNC connectors, 75-ohm connectors can give you better signal quality and less signal loss. Meanwhile, it is more flexiable because it also works with the old analog video formats like the 50-ohm does.


Application
Normally, the BNC connector is used for RF signal transmission. It includes analog and digital signal transmission, connection for the aerial of ham radio, avionic devices, and other electronic testing devices.
The BNC connector usually works with coaxial cables, such as RG6, RG59, RG58, etc. The 50-ohm version only works well with a 50-ohm coax cable for transmitting old analog video signals. If you prefer the high-quality signal, 50 ohm just can't meet your needs. However, the 75-ohm BNC connector and coax cables can carry higher-quality video signals. Many people find them more effective to use. And the 75-ohm version can be used in many different situations, as they are much more practical and flexible.


BNC Connectors For Security Cameras
The BNC connector, sometimes called CCTV cable connector, is a connector used for the cables of high-definition video surveillance. CCTV BNC connectors can ensure a high-quality output of surveillance video. Therefore, most surveillance and video equipment commonly uses BNC connectors nowadays.

Function
The BNC connector can isolate other video input signal to reduce the mutual interference. Besides, the signal it carries has more bandwidth than the common D-SUB, which helps reach the best signal response.
RG59 With BNC Connector
BNC Connector For RG59 Cable:
The BNC connector is a well-known CCTV connector. The most common coaxial cable working with the BNC Connector is RG59.
RG59 cable is a coax cable of 75-ohm impedance to carry video signals from a CCTV camera to the monitor room. RG59+2DC cable, also called RG59 Siamese Cable, is a RG59 cable plus two power cable for current supply. It is a special form of RG59 cable as well as one of the most popular CCTV cable types. Using BNC connector for RG59 cable has become a common option of CCTV installation for most people nowadays.


BNC Connector vs TNC Connector
When you search BNC connector on the Internet, you may discover 'TNC connector' also appears frequently.
Actually, the TNC connector stands for Threaded Neill Concelman. And as the full name implies, it is a threaded version of the BNC connector.
Compared to the BNC connector, the TNC connector provides more outstanding performance. It usually carries higher-frequency signals up to 11GHz.
TNC Connector


Where to Buy BNC Connector For Cameras?
RG59 coaxial cables and BNC connectors are the right cable and connector for your security cameras. Where to buy the best BNC connectors for your CCTV?
We can help you! New King Cable provides high-quality RG59+2DC cable and BNC Connector for security cameras.
At last, if you want to know more information about our products, please email us at Sales05@kexuncable.com.
Our salesmen will get back to you very quickly!